[< Précédente 9 10 11 12 13 14 15 Suivante >]

Retour au Top des photos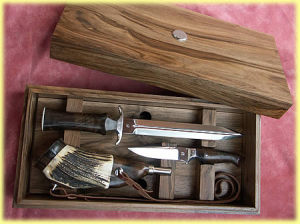 pour agrandir l'image, veuillez cliquer dessus


Coffret en noyer





Longueur : 40 cm - Largeur : 19 cm - Hauteur : 13 cm
Il se compose de deux niveaux. Le premier comprend :
Une dague de 35 cm avec lame de 23,5 cm, manche en noyer et culot gravé d'une tête de sanglier.
Un couteau de 23 cm avec lame de 11 cm, manche en noyer.
Une trompe de chasse bois de cerf et noyer.
Le deuxième niveau renferme les étuis cuir de tous les couteaux présentés.
Un médaillon, sur le couvercle où vous pourrez faire
graver vos initiales.


Walnut Case
Length : 40cm - Width : 19cm - Height : 13cm
First Level : 35cm dagger with 23,5cm blade, walnut handle,
collar engraved with boar's head.
23, cm knife with 11cm blade, walnut handle.
Deer antler and walnut hunting horn.
The second level contains the leather sheaths for each knife.
A medallion, on the lid, to engrave your initials.
[< Précédente 9 10 11 12 13 14 15 Suivante >]